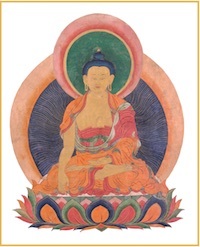 Profound Treasury of the Ocean of Dharma - Path of Individual Liberation Study Group
Are you interested in studying and discussing Buddhism? Chögyam Trungpa's first volume of the Profound Treasury of the Ocean of Dharma, The Path of Individual Liberation is a compilation of his teachings on the first stage of the path. We have an on-going study group reading and discussing the text. These teachings are some of the foundation ones for our community and his presentation is unique.
We gather informally from 6:00 to 6:30 pm, followed by reading and discussion from 6:30 to 8:00 pm.
If you don't have a copy of the book and price is an issue, we can work on some way of sharing and/or getting access to the content.
We started on April 1 at the St. Johnsbury Shambhala Center and intend to read the entire volume. The group happens on the 1st and 3rd Mondays of the month - everyone who is interested in this deep and provocative content is welcome to participate. Drop-ins and newly interested are welcome.
David Hollocher is coordinating the group. Please contact David via email with any and all related matters.