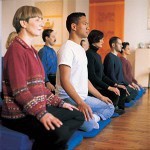 Learn to Meditate
6-7:30 Wednesday evenings.
This open house is a great introduction to the Shambhala Buddhist teachings and an opportunity to connect with other practitioners. It features half an hour meditation practice with meditation instruction, followed by a talk by one of our senior teachers, a discussion period, and a reception. This Wednesday evening, January 8th, the Learn To Meditate topic is titled "Joining Heaven and Earth" presented by Caroline DeMaio.
Attendance is free and open to the public.