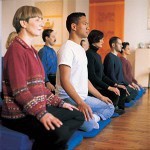 Learn to Meditate
During the COVID-19 outbreak, join us via Zoom for this weekly Open House -- 6-7:30 pm on Wednesday evenings. This event offers an introduction to the Shambhala Buddhist teachings and an opportunity to connect with other practitioners. It features a half hour of meditation practice with mindfulness meditation instruction, followed by a talk by one of our senior teachers and a discussion period.
Attendance is free and open to the public.
Upon registration, participants will be sent the Zoom log-in information and link. You may join via audio only or via video from your home computer.
Note: Register now and expect some delay in the registering process. Then, once you have registered, the original log-in info for the Zoom series of meetings will stay the same for each succeeding one unless a change is announced so there is no need to register again.