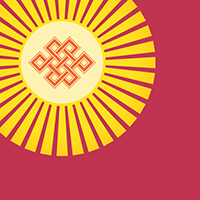 Extended Sunday Sitting - 9 am to Noon
We are in the process of setting up an online version of our weekly Sunday Sitting and Extended Sunday Sitting - stay tuned!
---
Shambhala society manifests strongly where people show the vision, courage and commitment to express the basic goodness of life as it is by sitting together in meditation on Sunday morning in northern Vermont.
We offer the opportunity to engage in foundational meditation practice as it has traditionally been done over the past two millennia, manifesting enlightened society.
Extended Sunday sitting meditation, from 9 a.m. to 12 noon, is being offered on the second Sunday of the month. You are welcome to come for all or part of the time. We will have a period of walking meditation around the top of each hour to allow for a smooth transition in and out of the shrine room. Please join us in this opportunity for a deeper community practice as the year begins anew.
Meditation instruction is available and admission is free. No previous meditative experience is necessary. Sitting cushions and chairs are provided.