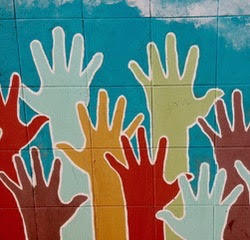 Social Justice Group
with Sara Demetry
Social justice issues are big news these days as are stories and examples of the suffering many experience in marginalized groups.
How are we in Shambhala relating to the Metoo# movement, racism, generational differences, gender identity, and concerns about the environment?
How does meditation prepare us to confront these issues and determine how to respond individually and as a society to all the ways that we might exclude others?
Many of us feel our own lack of awareness and are not sure how to even talk about these issues. We are forming a social justice group to begin to contemplate and discuss these issues, and to support our self education and our community. We will decide on the forms the group will take, together. This group will meet monthly from 12:30 - 2:30 pm on the first Sunday of the month beginning in October, facilitated by Sara Demetry. Contact Sara via email with questions.
Movie Sunday 2/2 at 1230 pm, popcorn provided. All are welcome. No charge.
I AM NOT YOUR NEGRO
2017 film narrated by actor Samuel L. Jackson, the film explores the history of racism in the United States through Baldwin's reminiscences of civil rights leaders Medgar Evers, Malcolm X, and Martin Luther King Jr., as well as his personal observations of American history. Nominated for an Academy Award for best documentary feature.
For a Trailer, see https://www.youtube.com/watch?v=03en4usVQBk