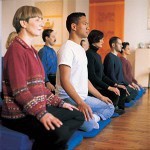 Learn to Meditate
6-7:30 Wednesday evenings.
This open house is a great introduction to the Shambhala Buddhist teachings and an opportunity to connect with other practitioners. It features half an hour meditation practice with meditation instruction, followed by a talk by one of our senior teachers, a discussion period, and a reception. This Wednesday evening, January 15th, the Learn To Meditate topic is titled "Individual Liberation and the Path of Meditation" presented by Wayne Schoech.
Attendance is free and open to the public.